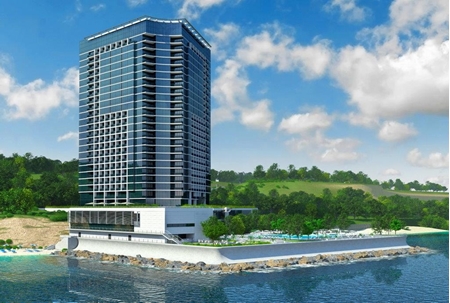 Object: 24-floors health complex with apartments and parking situated inOdessa, 60/1, Frantsuzskiy Boulevard..
Project of Health complex with apartments and parking was developed in accordance with the rules and regulations acting in the territory of Ukraine.
The project provides for land improvements, landscape gardening and lighting of the adjacent territory: pedestrian footpath covering with decorative flagstone; guest parkings; benches and litter bins near entrances; parking entrances coating with asphalt; building sidewalks; grass lawns greening with poaching resistance lawn grass; bushes planting; bedding.
Area of stylobate - 5,376.3 sq.m.
Parking - 231 car lots.
Number of rooms - 293 (620 guests).
Total area of restaurant, shop, beauty salon, offices, SPA-zone - 4,826.7 sq.m
Kinds of works: projecting, earthworks, hydraulic and shore-fixing works, pile field installing, shotcreting, sea wall arrangement, monolithic-framed works, waterproofing works.