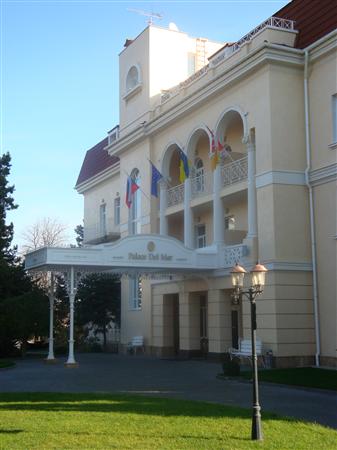 Object: Palace Del Mar Resort Complex
Location: Primorskiy District, Odessa
Works description: projecting works: reconstruction of separate buildings of the complex, projecting of a new swimming-pool, electrical systems, networks routing of water supply lines, sewerage network, heating network, ventilation and conditioning, landscape gardening and improvements; construction works: performing the obligations of Principal contractor, swimming pool construction, major repair of the resort complex, facade works, ventilation and conditioning system installation, mounting works, engineering network changing, design works.
Period of works: 5 months
Project Owner: Lessor-Odessa LLC
Palace Del Mar is a 5-star hotel in a resort district of Odessa, Arcadia. The architecture decision reflects refinement of the project and matches the style of the seaside aristocratic villa. The company intended to modernize and renovate a hotel interior and exterior. The difficulty laid in the fact the building was situated in the restrained urban conditions in the resort district. Therefore, the specialists of Hi-Raise Constructions Holding demonstrated a high professionalism, used modern equipment and fulfilled the set task.
Maritime air, an aggressive environment for building and structures, made a problem further successfully resolved by using high-quality concrete and other modern construction materials, particularly for facade finish.
The result exceeded expectations of the Project Owner. That way a fabulous swimming pool, coral lagoon, arose in the restrained urban conditions.