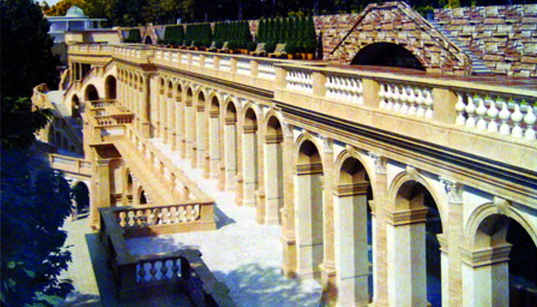 Object: Lunniy Public Garden, lower bench of Primorskiy Boulevard
Location: Primorskiy Boulevard, Odessa
Works description: supporting wall strengthening of Primorskiy Boulevard, special installation and construction works.
Period of works: 4 months
Project Owner: Private investor
In June 2008 during the Urban Council session under Department for Architecture and Urban Development of Odessa City Council Schematic Design of Recreation Centre together with accomplishment of Lunniy Public Garden on the Northern lower bench of Primorskiy District was discussed and later approved. Total construction area is 3,482 m.
The first stage of Lunniy Public Garden reconstruction was supporting wall strengthening of Primorskiy Boulevard by the specialists of Hi-Raise Constructions Holding, namely installing a pile field, inclined anchors and supporting wall construction.
The project of Recreation Centre construction and Lunniy Public Garden Reconstruction requires construction of leisure area, foodcourt and trade area, terrace and fountain, ponds system and of course children playground. Restores terraces will be decorated with graceful arches, balcony rails and green trees and plants.
For information: Lunniy Public Garden is situated in the heart of the historical part of Odessa - on Primorskiy Boulevard slopes. In olden days Primorskiy Boulevard was called Nikolaevskiy Boulevard, in honor of Prince Nikolay Nikolaevich who lived in the 19th century in Odessa in Primorskiy Boulevard.
In 1870s well-accomplished left part of the Boulevard slopes was the only park with kiddie rides in the latter half of the 19th century. Last century this park was called Pioneer Park.