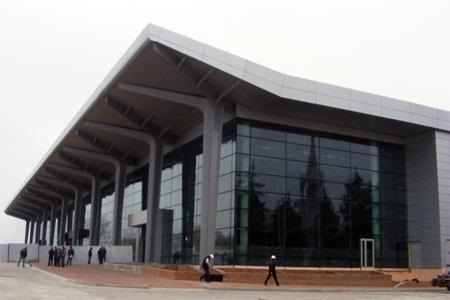 Object: Kharkov International Airport
Location: Kharkov
Works Description: enabling works of a new terminal of Kharkov International Airport.
Period of works: 6 months
Project Owner: New System AM LLC
This airport dispatches and accommodates flights from Ukraine, CIS countries, Europe, Middle East. As the airport is one of the leading airports in Ukraine and it operates as a cross-border logistic center, this object was decided to be reconstructed and modernized.
Difficult monolithic structures of a passenger terminal were conducted by specialists of Hi-Raise Constructions Holding. There should be main entrances to the passenger terminal, parking for 381 car lots, parking for buses and shuttle buses at the landside.
For information: On 26 June 2008 feasibility and preliminary design study was approved during the Urban Council session to reconstruct the object complex of the airport in 1, Romashkina St., Kominternovskiy region, Kharkov, providing the first order of reconstruction of the landside and construction of the first airport passenger terminal. According to the approved project, the total construction area is 115.25 thous. sq. m.
The development concept of Kharkov International Airport includes major overhaul of the existing flight strip elongating it by 400 m to 2.6 thous. m and reequipping of technical airfield systems.
In frame of Project a construction of 3-floor building of 15 m high is planned. A passenger terminal will hold 650 passengers per hour and includes:
ground floor - departure lounge, arrival lounge, cafe, box offices, technological section, luggage spaces, WC.
1st floor - office and utility rooms, transit halls, international passengers hall.
2nd floor - outbound passengers halls of the local airlines and international airlines, concourses, WC, airport customs and Frontier Service rooms and offices, safety service rooms and offices, veterinary control room, phytocontrol room, radiation safety room.
The project requires a lower ground floor with technical premises, heating and cooling equipment rooms. Constructive decisions were made in accordance with natural features.
Airfield reconstruction of Kharkov International Airport means a flight strip reconstruction (by elongating from 2,220 m to 2,470 m) and airport aprons reconstruction. This project will allow the airport to accommodate aircrafts such as Airbus A-320 and Boeing B-737.