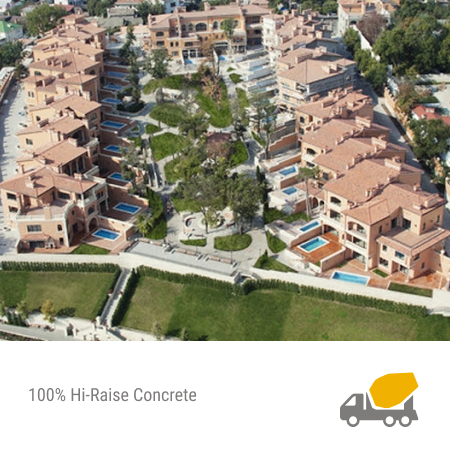 Object: a cottage consisting of 25 3-floor attached houses
Location: 16th Station of Big Fountain, Odessa
Works description: projecting (the following stages are performed: "Schematic Stage", "Project", "Construction Project Documents"), performing the General Contractor obligations.
Period of works: 48 months
Project Owner: Zhilstroyservice - 1 LLC
Club complex of individual "Luxury" residences. Total square is 1.9 ha.
Complex includes:
25 individual cottages;
building with the operating organization office and 3 apartments;
closed secured area of 2 ha (land is a property of the operating organization);
2 guest parkings of 7 and 9 places, as well as parking places near the residences;
park with old trees and plants with view porch, square with a fountain, rotunda;
beach promenade with a palm allée, flower beds and fountain;
beach complex with a restaurant.
Architecture: The cottages are seaward and situated around the territory: inside - pedestrian park area, outside - driveways.
All the houses are individual - there is no similar facade and planning. However, the complex is performed in the unified architectural ensemble (Mediterranean Spanish style).
Project features:
Land passing to the future owners, unlike other projects within the city performed on the lease land.
Location in environmentally-appropriate and prestige district of the city.
Red line from the sea. View to the sea from the complex area and houses.
Complex is faced to the promenade with the palm allée (complete accomplishment - end of 2010- beginning of 2011) and landscape sand beach (beach club will be finished at the beginning of 2011). Thus, a unified recreational complex is performed.
Unified architectural ensemble, severe style, individuality of each house. There are no similar (typical) facades and planning.
Construction materials of high quality: walls - effective ceramic brick; windows and sliding systems are wooden with double glazing, marble window-sills and drip strips; facades - Venetian plaster, natural sandstone, marble, decor (individual sculptural solid elements, marble panels, maiolica tiles); roof - natural brick Spanish tile, copper storm sewers. Accomplishment - granite, sandstone, marble and brick tile.
Building services systems and equipment - only well-known brands. Full autonomy (diesel generator, water storage, potable and purification system).
Park with old trees and plants, the central part of which is saved and treated, new and large-sized trees are planted in the park. Promenade porches, square with a fountain, rotunda, allées, grass lawns, planters and flower-beds are created. All these complete and expand recreation area typical for Mediterranean resort towns.
Concierge Service - a reliable householder who can solve all household queries as well as unusual and specific ones. The cottage owner will feel like he/she is at the best resorts in the world for the whole year. Security, exploitation and associated services are evident.
Official website of the complex.